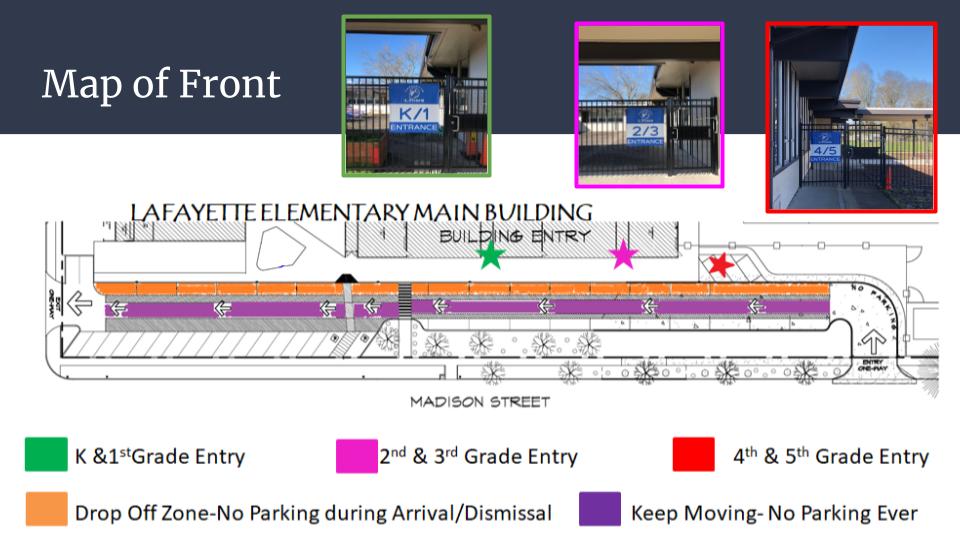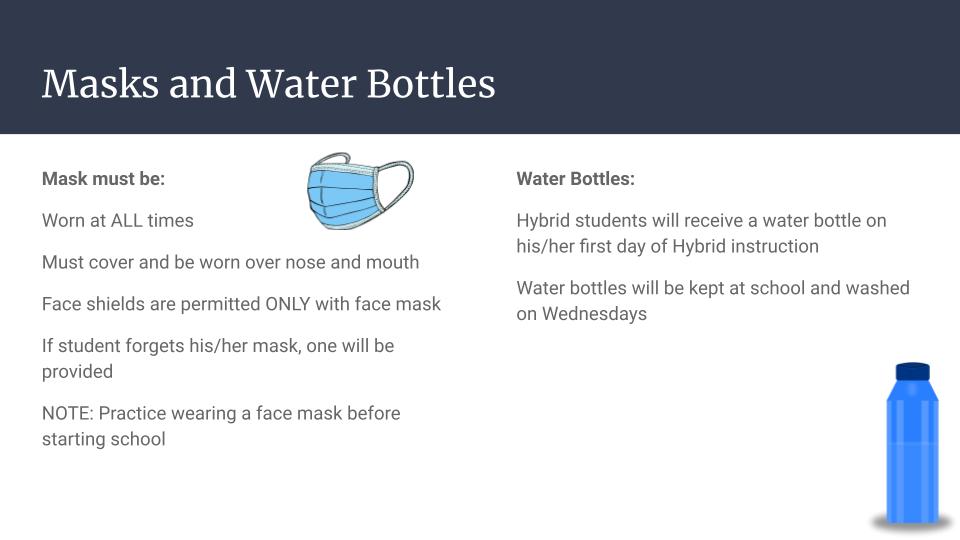 Mask must be: 
Worn at ALL times
Must cover and be worn over nose and mouth
Face shields are permitted ONLY with face mask
If student forgets his/her mask, one will be provided
NOTE: Practice wearing a face mask before starting school
Water Bottles: 
Hybrid students will receive a water bottle on his/her first day of Hybrid instruction
Water bottles will be kept at school and washed on Wednesdays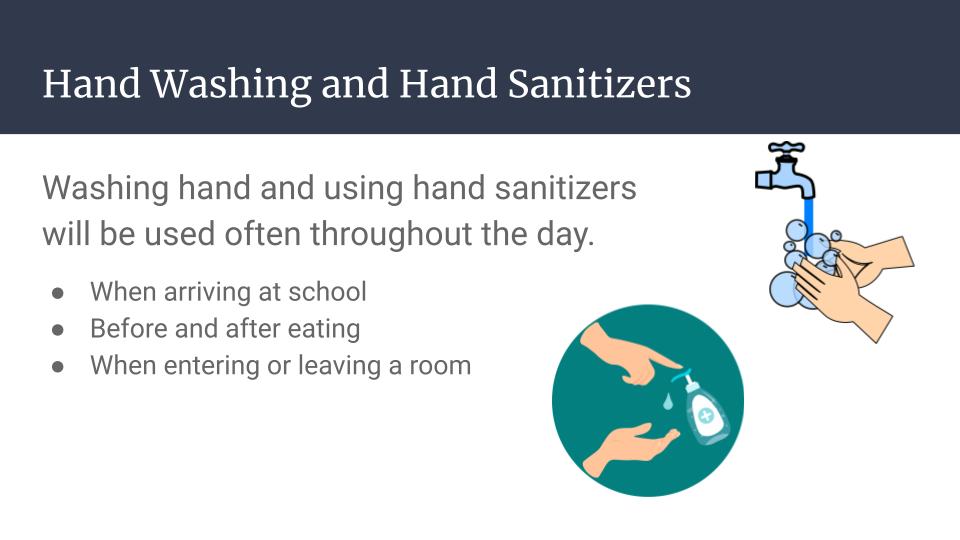 Washing hand and using hand sanitizers will be used often throughout the day.  
When arriving at school

Before and after eating

When entering or leaving a room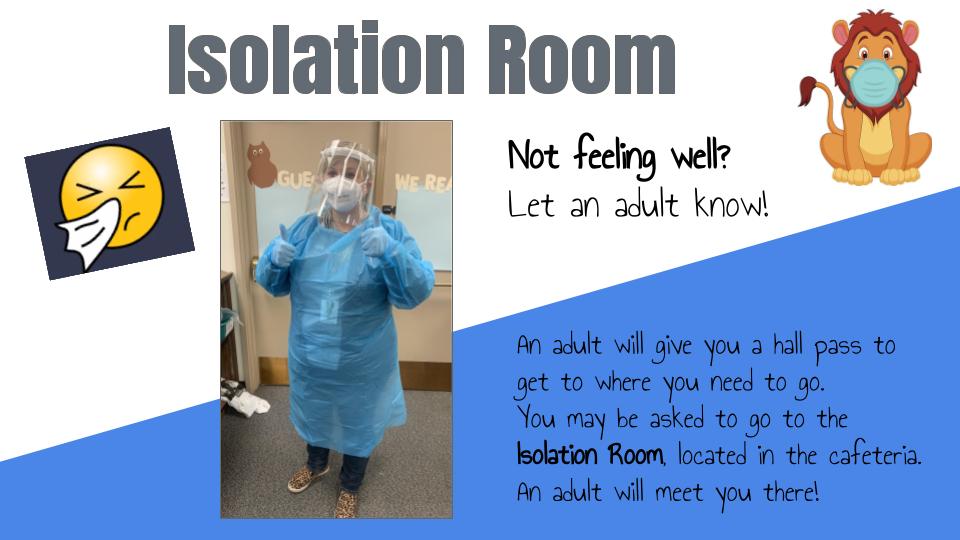 Not feeling well? 
Let an adult know!
An adult will give you a hall pass to get to where you need to go. 
You may be asked to go to the Isolation Room, located in the cafeteria. An adult will meet you there!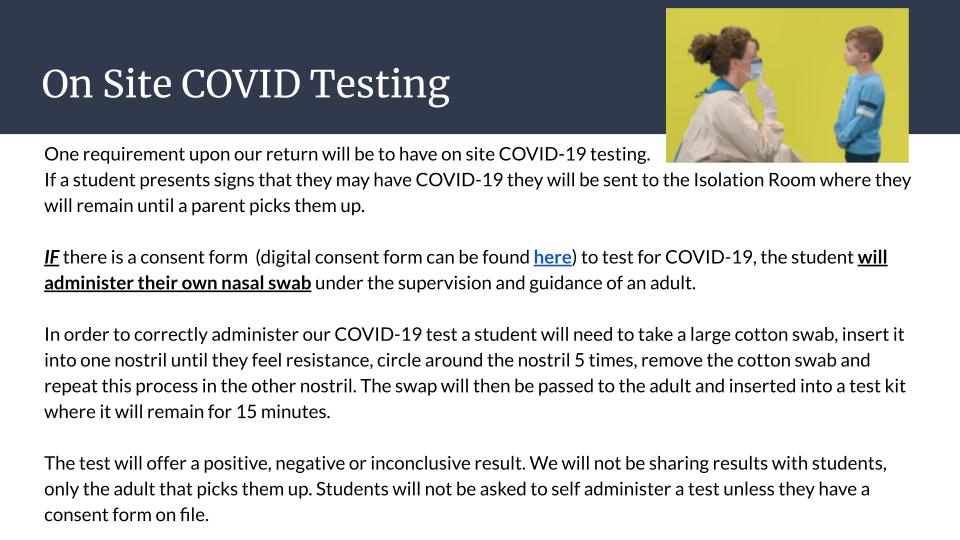 On Site COVID Testing
One requirement upon our return will be to have on site COVID-19 testing.  
If a student presents signs that they may have COVID-19 they will be sent to the Isolation Room where they will remain until a parent picks them up.
IF there is a consent form  (digital consent form can be found here) to test for COVID-19, the student will administer their own nasal swab under the supervision and guidance of an adult. 
In order to correctly administer our COVID-19 test a student will need to take a large cotton swab, insert it into one nostril until they feel resistance, circle around the nostril 5 times, remove the cotton swab and repeat this process in the other nostril. The swap will then be passed to the adult and inserted into a test kit where it will remain for 15 minutes. 
The test will offer a positive, negative or inconclusive result. We will not be sharing results with students, only the adult that picks them up. Students will not be asked to self administer a test unless they have a consent form on file.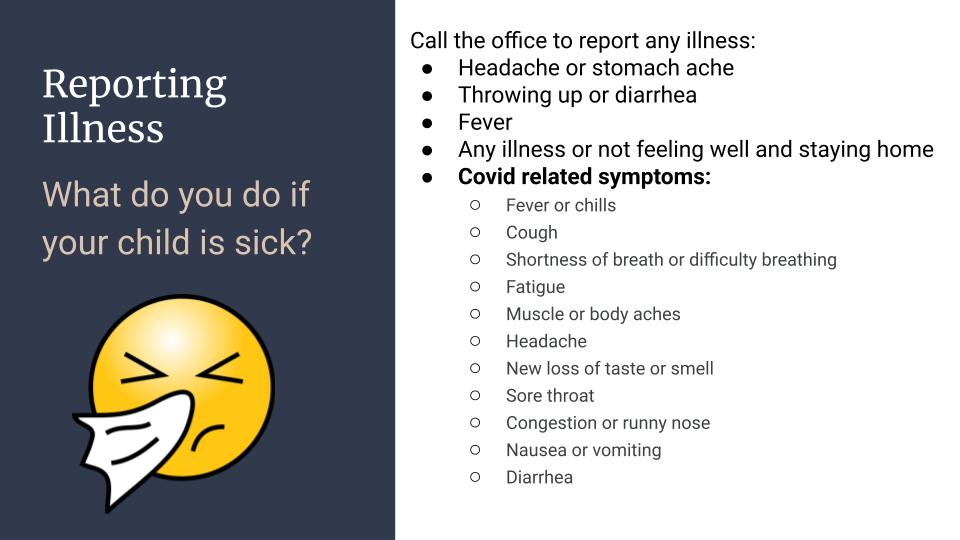 Call the office to report any illness: 
Headache or stomach ache

Throwing up or diarrhea

Fever

Any illness or not feeling well and staying home
Fever or chills

Cough

Shortness of breath or difficulty breathing

Fatigue

Muscle or body aches

Headache

New loss of taste or smell

Sore throat

Congestion or runny nose

Nausea or vomiting

Diarrhea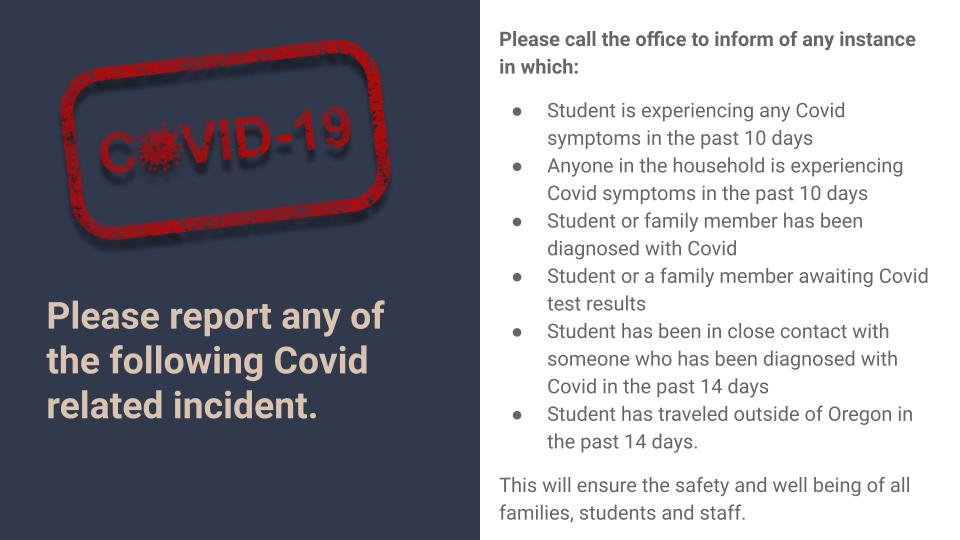 Please call the office to inform of any instance in which: 
Student is experiencing any Covid symptoms in the past 10 days

Anyone in the household is experiencing Covid symptoms in the past 10 days

Student or family member has been diagnosed with Covid

Student or a family member awaiting Covid test results

Student has been in close contact with someone who has been diagnosed with Covid in the past 14 days

Student has traveled outside of Oregon in the past 14 days. 
This will ensure the safety and well being of all families, students and staff.