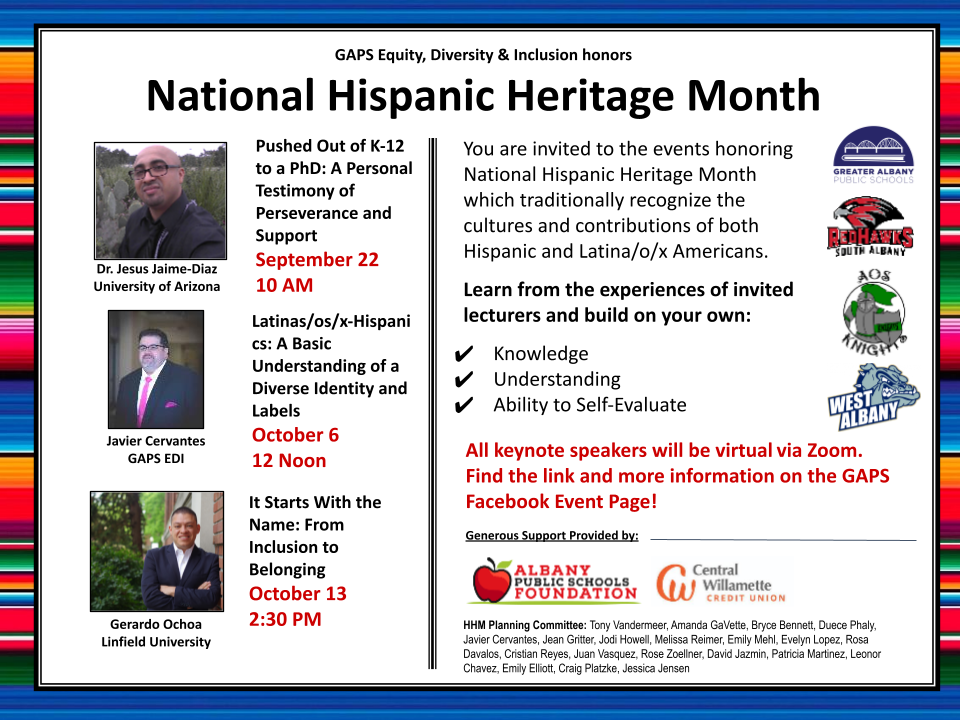 To recognize National Hispanic Heritage Month, GAPS Equity, Diversity, and Inclusion (EDI) department is hosting a series of district-wide programming including three virtual keynote speakers. Latinas/os/x in Albany comprise roughly 13% of the city's population, and the GAPS school community has over 21% students who identify as Latina/o/x. The demographic in GAPS is greater than what is reflected in our Albany community, and we as a district want to recognize the diversity GAPS represents through educational programming for our schools and community.
We are welcoming Dr. Jesus Jaime-Diaz from the University of Arizona, Gerardo Ochoa from Linfield University, and presenting our own EDI Director, Javier Cervantes to speak on subjects that will build knowledge and understanding of the varying identities and labels ascribed to Latinas/os/x in the United States. 
West Albany and South Albany High Schools will have displays demonstrating Hispanic culture open in the school buildings throughout the month. Many GAPS art classes and libraries will also recognize Hispanic Heritage Month through projects and book displays. 
This month's programming has been a district-wide effort from many staff members to commemorate the contributions of Latinas/os/x in our community. GAPS wants to thank our community partners, Albany Public Schools Foundation and Central Willamette Credit Union, for funding our keynote speakers.
All presentations will be recorded and available on our website under the EDI webpage.
The Zoom information is the same for all three virtual presentations.
Join Zoom Meeting: https://albany-k12-or-us.zoom.us/j/84249573498?pwd=eVB2cndMOTVCODhXOTA4UWVESFc1QT09
Meeting ID: 842 4957 3498
Passcode: 610742
Dial by your location:
+1 253 215 8782 US (Tacoma)
+1 346 248 7799 US (Houston)
---
Spanish Translation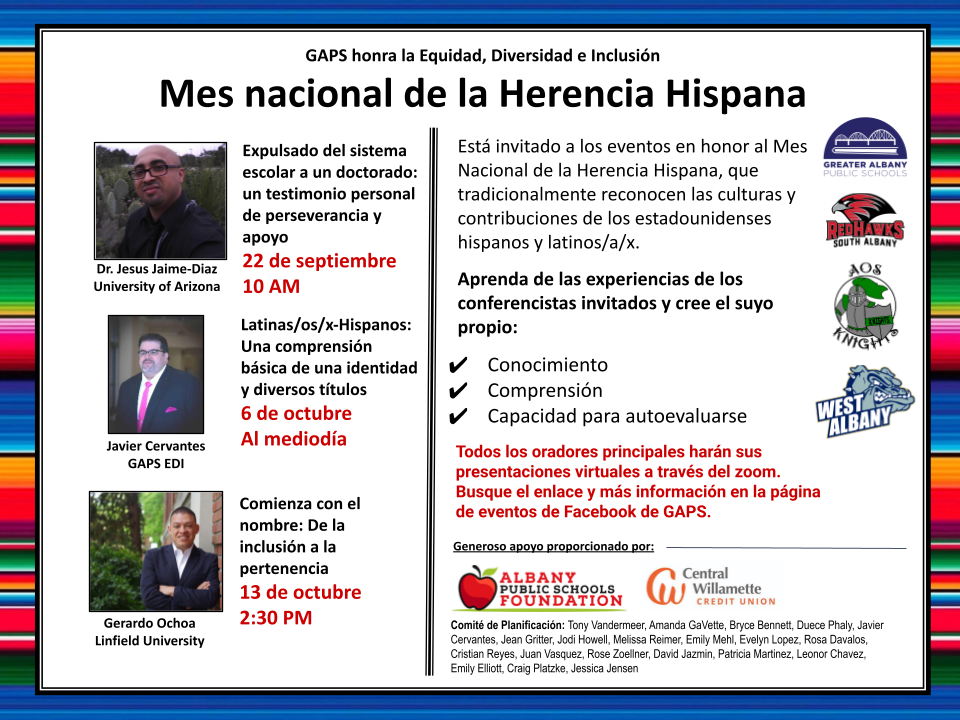 Para reconocer el Mes Nacional de la Herencia Hispana, el departamento de Equidad, Diversidad e Inclusión (EDI) de GAPS está organizando una serie de presentaciones para todo el distrito que incluye tres oradores principales virtuales. Las latinas / os / x en Albany comprenden aproximadamente el 13% de la población de la ciudad, y la comunidad escolar de GAPS tiene más del 21% de estudiantes que se identifican como latinas / o / x. La demografía en GAPS es mayor de lo que se refleja en nuestra comunidad de Albany, y nosotros, como distrito, queremos reconocer la diversidad que representa GAPS a través de la programación educativa para nuestras escuelas y comunidad.
Damos la bienvenida al Dr. Jesus Jaime-Diaz de la Universidad de Arizona, Gerardo Ochoa de la Universidad de Linfield, y presentamos a nuestro propio Director de EDI, Javier Cervantes para hablar sobre temas que desarrollarán el conocimiento y la comprensión de las distintas identidades y títulos atribuidos a las/os latinas / os / x en los Estados Unidos.
Las escuelas preparatorias de West Albany y South Albany, tendrán exhibiciones que demuestren la cultura hispana abiertas en los edificios escolares durante todo el mes. Muchas clases de arte y bibliotecas de GAPS también reconocerán el Mes de la Herencia Hispana a través de proyectos y exhibiciones de libros.
La programación de este mes ha sido un esfuerzo de todo el distrito por parte de muchos miembros del personal, para conmemorar las contribuciones de Latinas / os / x en nuestra comunidad. GAPS quiere agradecer a nuestros socios comunitarios, la Fundación de Escuelas Públicas de Albany y Central Willamette Credit Union, por financiar a nuestros oradores principales.
Todas las presentaciones se grabarán y estarán disponibles en nuestro sitio web bajo en la  página de EDI.
La información de Zoom es la misma para las tres presentaciones virtuales. 
Unirse a la reunión de Zoom: https://albany-k12-or-us.zoom.us/j/84249573498?pwd=eVB2cndMOTVCODhXOTA4UWVESFc1QT09
ID de la junta: 842 4957 3498
Contraseña: 610742
Marque desde su ubicación:
+1 253 215 8782 US (Tacoma)
+1 346 248 7799 US (Houston)