Greater Albany Public Schools' All Stars will be recognized on Monday, May 2, in an online ceremony beginning at 6:30 p.m. All Stars are students who display outstanding positive character in grades kindergarten through 12th grade. Each school honors students as All Stars, and every student hears their name called by their principal and why they were deserving of the honor. Each student received a certificate of recognition in the mail.
"We are really excited to recognize students from each school who have done a phenomenal job of learning and leading over the course of this school year," said Interim Superintendent Rob Saxton.
In addition to the students and their families, members of the GAPS School Board, Interim Superintendent Saxton and district staff are expected to join the online celebration. The celebration may be viewed on the GAPS YouTube page at youtube.com/GreaterAlbanyPublicSchools.
---
Premios "All Stars" (estudiantes destacados) programados para el 2 de mayo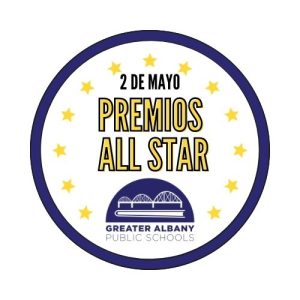 Los estudiantes destacados de las Escuelas Públicas de Greater Albany, serán reconocidos el lunes 2 de mayo en una ceremonia en línea que comenzará a las 6:30 p.m. Los estudiantes destacados-All Stars son estudiantes que muestran un carácter positivo sobresaliente en las clases de Kínder a 12° grado. Cada escuela honra a los estudiantes como "All Star", y cada estudiante escucha su nombre por parte de su director y por qué se merecen el honor. Cada estudiante recibió un certificado de reconocimiento por correo. 
"Estamos muy emocionados de reconocer a los estudiantes de cada escuela que han hecho un trabajo fenomenal de aprendizaje y liderazgo en el transcurso de este año escolar", dijo el Superintendente interino Sr. Rob Saxton.
Además de los estudiantes y sus familias, se espera que los miembros de la Mesa Directiva de GAPS, el Superintendente interino Saxton y el personal del distrito, se unan a la celebración en línea. La celebración se puede ver en la página de YouTube de GAPS en youtube.com/GreaterAlbanyPublicSchools.