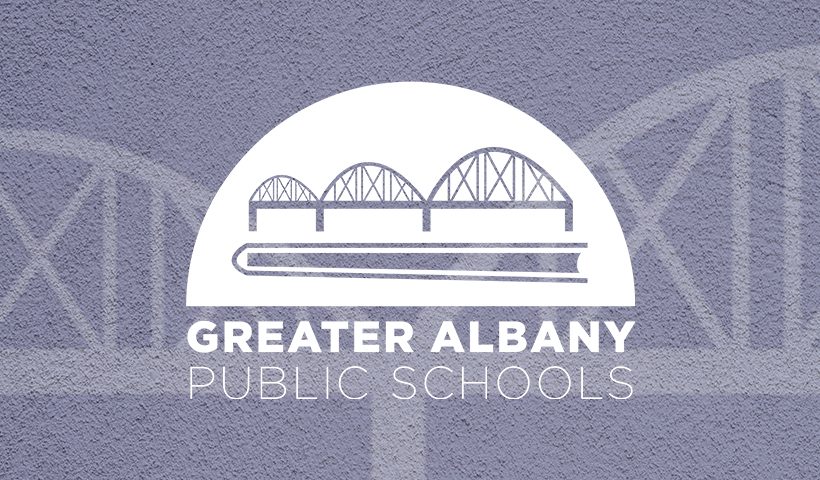 The Greater Albany Public Schools Health Services Team was established in July 2021 to collaborate efforts and create a comprehensive student support system for health services. This team includes the Family and Community Together (FACT) team, nursing team, and our counseling staff. 
"Right now, I think I am most proud that this team exists and operates at its current capacity. The district's commitment to focusing on student health and its recognition of the relationship between health and academic success has supported the growth and development of this team," said GAPS Director of Health Services Rachel Smith, PhD, RN. "I'm excited to see how it continues to grow in the coming years."
Although this system is a relatively new concept for many school districts around the state, GAPS saw the opportunity for expansion and dedicated funds to support the growth of the Health Services team particularly through staffing efforts. This process took a couple of years, but the team is now fully staffed.
"Each of these programs have grown over the past few years: our District Nursing team has expanded to five District Nurses, five Licensed Practical Nurses, and a secretary; our FACT team now includes six FACT liaisons, a family services liaison, and a secretary; and our counseling team has expanded to 27 counselors, with staffing for most elementary schools and all secondary schools," said Smith. "This new structure has enabled us to really focus on the comprehensive health and social services needs for all of our students."
With the importance of providing equitable health services to all students, this team also comprises many new bilingual and multicultural staff to help better respond to bilingual students and families.
"We have an increasingly diverse student population at GAPS and our team strongly believes that it is important to connect with our students, families, and communities as best as we can. By hiring multicultural and bilingual staff, we are better able to serve our school community," Smith added.
GAPS is proud of the establishment of this team, and the district plans to continue growth and development efforts for all health services to better support each and every student.
"It is such a pleasure and a privilege to work with so many smart, invested, and interesting people on a daily basis to better support and strengthen the health of our students, families, staff, and community," said Smith.
To find more information about our Health Services Team, family resources, COVID-19 requirements, contact information and more, please visit the Health Services Team page on the district website. 
---
Spanish Translation
El Equipo de Servicios de Salud de las Escuelas Públicas de Greater Albany, se estableció en julio de 2021 para colaborar en los esfuerzos y crear un sistema integral de apoyo estudiantil para los servicios de salud. Este equipo incluye el equipo de Familia y comunidad trabajando juntos (FACT por sus siglas en inglés), el equipo de enfermería y nuestro personal de consejería.
"En este momento, creo que soy la más orgullosa de que este equipo exista y opere a su capacidad actual. El compromiso del distrito de centrarse en la salud de los estudiantes y su reconocimiento de la relación entre la salud y el éxito académico, ha respaldado el crecimiento y desarrollo de este equipo", dijo la Directora de servicios de salud de GAPS, Sra. Rachel Smith, PhD, RN. "Estoy emocionada de ver cómo continúa creciendo en los próximos años". 
Aunque este sistema es un concepto relativamente nuevo para muchos distritos escolares en todo el Estado, GAPS vio la oportunidad de expandirse y dedicó fondos para apoyar el crecimiento del equipo de Servicios de Salud, particularmente a través de los esfuerzos de dotación de personal. Este proceso tomó un par de años, pero el equipo finalmente cuenta con todo el personal. 
"Cada uno de estos programas ha crecido en los últimos años: nuestro equipo de enfermería de distrito, se ha ampliado a cinco enfermeras de distrito, cinco enfermeras prácticas licenciadas y una secretaria; nuestro equipo FACT ahora incluye seis enlaces FACT, un enlace de servicios familiares y una secretaria; y nuestro equipo de consejería se ha expandido a 27 consejeros, con personal para la mayoría de las escuelas primarias y todas las escuelas secundarias", dijo Smith. "Esta nueva estructura nos ha permitido centrarnos realmente en las necesidades integrales de servicios sociales y de salud para todos nuestros estudiantes". 
Con la importancia de brindar servicios de salud equitativos a todos los estudiantes, este equipo también está compuesto por muchos nuevos miembros del personal bilingüe y multiculturales, para ayudar a responder mejor a los estudiantes y familias bilingües. 
"Tenemos una población estudiantil cada vez más diversa en GAPS y nuestro equipo cree firmemente que es importante conectarnos con nuestros estudiantes, familias y comunidades lo mejor que podamos. Al contratar personal multicultural y bilingüe, podemos servir mejor a nuestra comunidad escolar", agregó Smith 
GAPS se enorgullece del establecimiento de este equipo, y el distrito planea continuar los esfuerzos de crecimiento y desarrollo, para todos los servicios de salud para apoyar mejor a todos y cada uno de los estudiantes. 
"Es un gran placer y un privilegio trabajar con tantas personas inteligentes, comprometidas e interesantes todos los días, para apoyar y fortalecer mejor la salud de nuestros estudiantes, familias, personal y comunidad", dijo Smith. 
Para encontrar más información sobre nuestro Equipo de Servicios de Salud, recursos familiares, requisitos de COVID-19, información de contacto y más, visite la página del Equipo de Servicios de Salud en el sitio web del distrito.